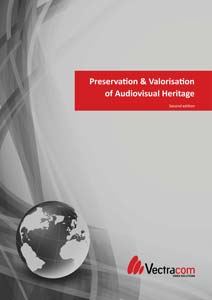 As a specialist of "Preservation and Valorisation of Audiovisual Heritage", Vectracom edits every year a brochure for all those who are in possession of audiovisual heritage.
It emphasises the challenges that audiovisual archives have to face and propose a collection of information, basic facts, food for thougts and solutions for archivists, content owners and curators.
It's also a guide for anybody having to preserve an audiovisual heritage.
It first describes most of the legacy audiovisual carriers and explains what should be done with them to preserve them. Then, explanations about metadata creation and enrichment are provided to enable valorisation.
You are invited to download the document. After providing your references (email), you'll receive an email with a link for immediate download.
---