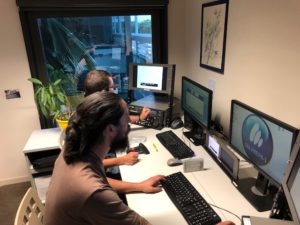 Final stage in Reunion Island, after 5 years in the Overseas Departments and Territories for the "INA-OUTREMER" project :  within the context of a partnership between INA and OUTREMER 1ere, VECTRACOM is in charge of archiving the audiovisual heritage of Overseas France (Article 26/04/2018).
After the maintenance of our equipment and an update of our systems, our mobile team proceeded to the technical reinstallation of the station.
The digitization of archives in Reunion Island and Mayotte has just begun and includes more than
28,000 DVC Pro cassettes:  16 DVC Pro players running simultaneously for a daily average of 205 hours of films.
All files are archived on 2 different media (LTO magnetic cartridges and hard disks): this process reinforces the backing-up of archives.
Vectracom's "INA-OUTREMER", scheduled to last 9 months, should come to an end in March 2019.
This last stopover in the overseas network is in line with Vectracom's objectives: to carry out its mission on site.